Nutmeg the Protector and her sister Sassafras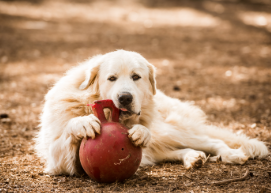 Nutmeg the Protector 
Nutmeg and her sister Sassafras are Great Pyranees and are guardians of the pasture. 
They keep predators at bay with their barking and constant patrolling. 
They watch the skies and listen out for nefarious animals, and they keep the flock safe. 
They live in peaceful harmony with pigs, goats, sheep, turkeys, ducks and chickens, and the occasional cat that waltzes through.